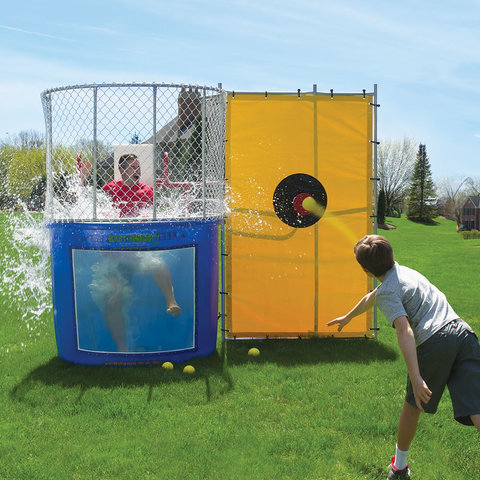 Dunk Tank Rental Tampa




Available Booking Options For Residential Deliveries

| | |
| --- | --- |
| All Day | $350.00 |
| Weekend Special+30% | $455.00 |

*Weekend Special Rentals are only 30% more for the whole weekend! We will contact you on Thursday to arrange a delivery time for Friday and once we deliver, we will not pick it up until Monday!



Tampa's Dunk Tank Rental Specialist
Enjoy all the FUN in throwing a ball to knock someone in the WATER! It's HILARIOUS!!!
This is a PERFECT GAME for all SCHOOLS, CHURCHS and BACKYARD PARTIES!
This is an ALL DAY RENTAL. If you have a truck with a trailer hitch, you can pick this unit up without any delivery fees!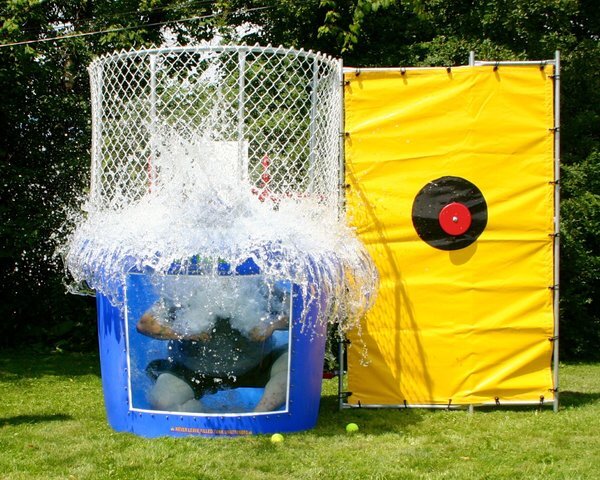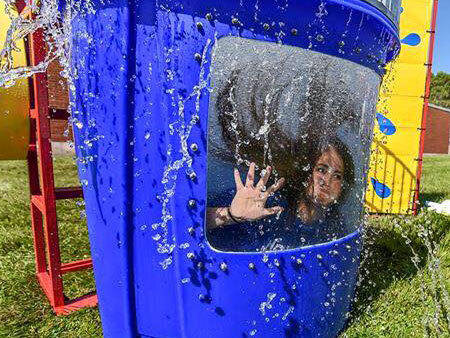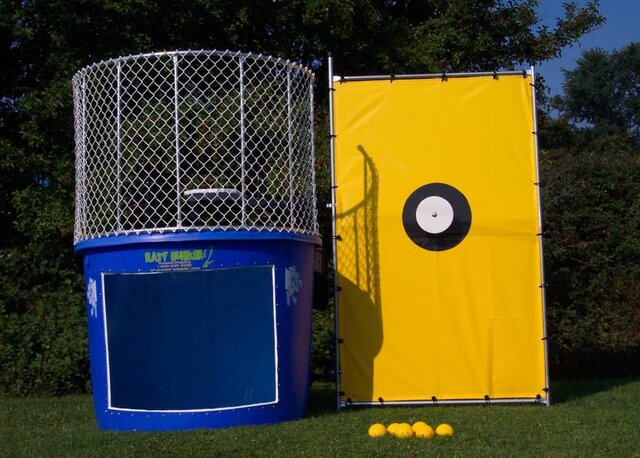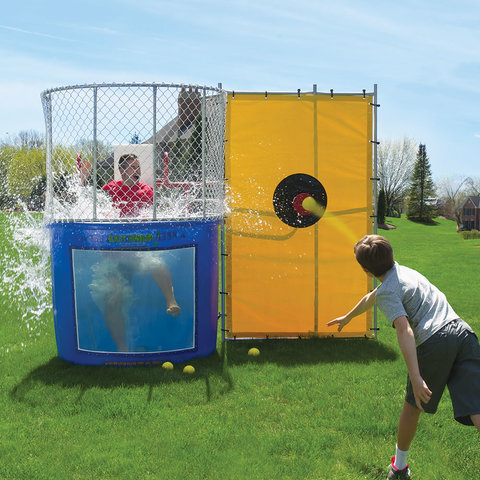 SET UP INSTRUCTIONS
1. Select a level area for set up. 2. Unhook trailer and lights from tow vehicle and roll to set up area. (NOTE: Trailer and tank are one unit, do not try to separate!) 3. Raise tongue end of trailer and remove hitch pins from tongue bar. Slide tongue bar out and replace pins in bar. 4. Slowly lift up and set tank upright. (Be careful not to drop tank onto its bottom.) 5. Remove the transportation chains from around the arms. Drop the Bottom Canvas Arm into the horizontal position. Remove the pin securing the Top Canvas Arm from its (vertical) transportation position and put in into its horizontal position, securing it with the pin. (See Figure 3.) 4. Slide the canvas onto the top and bottom canvas arms. (See Figure 4.) 5. Extend top canvas bar to full height, and use the ball bungees to secure canvas to the vertical bar. (See Figure 5.) 6. Place the arm into the trigger mechanism. Put the other end trough the hole in the canvas. Make sure the arm drops into the tube on the side of the frame. Insert the target into the end of the arm, and screw tight. 7. Place one hand on the front of the seat and push down. With the other hand test the target to see that it works properly. 8. Check drain plug to make sure it is tight and then fill tank to the top with water (approx. 500 gallons). 9. REVIEW SAFETY RULES WITH ALL PARTICIPANTS.
SAFETY INSTRUCTIONS
Easy Dunker must always have an adult operator on duty when in use. ♦ When tank is going to be unattended, always drain water. NEVER LEAVE A DUNK TANK FILLED WITH WATER UNATTENDED! ♦ Cordon off a "danger zone" in front of, to the sides of, and behind the tank. Keep people out of the zone to avoid ge/ng hit by an errant or deflected throw. Children should never be allowed inside this "danger zone." ♦ Never place the dunk tank on a platorm or stage. (NOTE: When filled the dunk tank weighs over 4,500 pounds.) ♦ Keep Easy Dunker away from electricity. ♦ Keep water level filled to at least 8" from the top of the tank. ♦ Only one person at a time