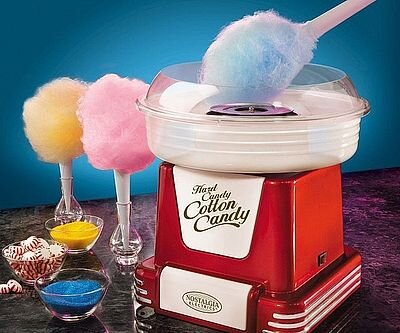 Cotton Candy machine rental




Available Booking Options For Residential Deliveries

| | |
| --- | --- |
| All Day | $68.99 |
| Weekend Special+30% | $89.69 |

*Weekend Special Rentals are only 30% more for the whole weekend! We will contact you on Thursday to arrange a delivery time for Friday and once we deliver, we will not pick it up until Monday!



🍭 Step right up and step into a world of sugary delight with Bounce Genie's Cotton Candy Machine Rental! Prepare to whisk your guests away on a cloud of sweet nostalgia with the unmistakable aroma and whimsical magic of freshly spun cotton candy.
🎉 There's something about cotton candy that brings out the child in all of us, and at Bounce Genie, we're here to make your event a sugar-coated sensation.
🌟 Why Choose Bounce Genie's Cotton Candy Machine Rental?
1. **Irresistible Sweetness:** Our cotton candy machine produces fluffy, melt-in-your-mouth confections that are as delicious as they are beautiful. The vibrant colors and airy texture make each bite an enchanting experience.
2. **Endless Options:** With a rainbow of flavors and colors to choose from, you can customize your cotton candy to match the theme or mood of your event. Classic pink and blue, tropical fruit, or even exotic flavors like bubblegum - the possibilities are endless!
3. **Nostalgic Atmosphere:** Our machine doesn't just spin cotton candy; it spins memories. Its retro design and enchanting process will transport your guests to a simpler, more carefree time.
4. **Easy to Operate:** Our friendly staff will deliver, set up, and provide hands-on guidance on how to use the cotton candy machine. You won't need to worry about a thing; we've got the magic under control.
5. **Affordable Delight:** Bounce Genie offers competitive rates and flexible rental packages that won't burst your budget. We believe everyone should experience the sweet magic of cotton candy at their event.
6. **All-Occasion Sweetness:** Our cotton candy machine rental is perfect for birthday parties, school fairs, weddings, corporate events, and more. No matter the occasion, a touch of cotton candy adds an extra layer of sweetness.
🌈 Elevate your event with a sugar-spun spectacle, turning ordinary moments into extraordinary memories. Bounce Genie's Cotton Candy Machine Rental isn't just a sweet treat; it's a captivating experience that will leave your guests grinning from ear to ear.
📞 Don't miss the chance to sweeten your next event! Contact Bounce Genie today and add a touch of whimsy and nostalgia with our cotton candy machine rental. It's not just candy; it's pure, sugary enchantment, and it's waiting to make your celebration truly magical. Your guests won't be able to resist the temptation, and your event will be remembered as the sweetest affair in town!